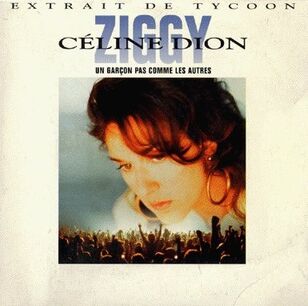 Un garçon pas comme les autres (Ziggy) (which means "A Boy Unlike the Others (Ziggy)") is the last single from Celine Dion's tenth studio album "Dion chante Plamondon."
The single was released as the second commercial single in France on June 28, 1993.
Song Background
Edit
The song tells a story about a woman's love for a gay man. The song was originally sung by Fabienne Thibeault in the 1978 "Starmania" musical.
Celine also recorded the song in English which was featured on the "Tycoon" compliation album.
Music Video
Edit
There were two similar music videos made for the French and English version of the song & both of them were directed by Carole Laure. The model in the video is portrayed by Rodney Weber.
The first music video can be found on Celine's 2005 DVD "On ne change pas."
The music video features Celine sitting in the bleachers of a stadium and longing for a soccer player who is preoccupied with teammates.
At the end of the video, the soccer player is walking up to what appears to be a guy in a pullover with a hood over his head.
When the hood is removed as they kiss, it is revealed to be Celine.
Chart Performance
Edit
"Ziggy" peaked at number 2 in France and was certified Gold, selling 365,000 copies.
It spent almost a year on the chart, including 7 weeks at number 2 position and 18 weeks in the top 10.
It was Celine's biggest hit song in France since her 1983 song "D'amour ou d'amitié."
Community content is available under
CC-BY-SA
unless otherwise noted.