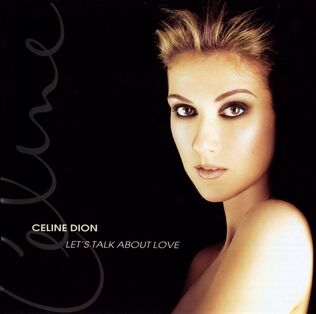 Let's Talk About Love is Celine Dion's fifth English-language album & her twenty-third overall album.
Album Background
Edit
The album's recording process took place in London, New York & Los Angeles.
Tracklisting
Edit
The Reason (5:01) (written by Carole King, Mark Hudson & Greg Wells)
Immortality (feat. the Bee Gees) (4:11) (written by Barry, Robin & Maurice Gibb)
Treat Her Like a Lady (feat. Diana King) (4:05) (written by Diana King, Andy Marvel, Billy Mann & Celine Dion)
Why Oh Wy (4:50) (written by Marti Sharron & Danny Sembello)
Love is On the Way (4:25) (written by Peter Zizzo, Denise Rich & Tina Shafer)
Tell Him (feat. Barbra Streisand) (4:51) (written by Linda Thompson, Walter Afanasieff & David Foster)
Where is the Love (4:55) (written by Hart)
When I Need You (4:12) (written by Albert Hammond & Carole Bayer Sager)
Miles to Go (Before I Sleep) (4:40) (written by Corey Hart)
Just a Little Bit of Love (4:06) (written by Maria Christensen, Arnie Roman & Arthur Jacobson)
My Heart Will Go On (4:40) (written by James Horner & Will Jennings)
I Hate You Then I Love You (feat. Luciano Pavarotti) (4:42) (written by Tony Renis, Manuel de Falla, Alberta Testa, Fabio Testa & Norman Newell)
To Love You More (5:28) (written by David Foster & Miles)
Let's Talk About Love (5:12) (written by Bryan Adams, Jean-Jacques Goldman & Eliot Kennedy)
Chart Performance
Edit
Before "Let's Talk About Love" was even released, Sony Music Entertainment announced they had orders for almost 11 million copies worldwide (10,750,300) which made it the most expected album of 1997.
The sales skyrocketed right at the beginning, and the album quickly topped the charts all around the world, smashing sales records in many countries.
The album has sold over 31 million copies worldwide and became one of the best-selling albums in history (20 million of which were sold in first four months and 6 of that total in the United States).
In the U.S., it debuted at number 2 with 334,000 copies.
The sales kept increasing until a 624,000 total in its sixth week, though remaining at number 2. Finally, the album topped the Billboard 200 the following week.
Until May of 1998, the album stayed a total of 17 weeks at number 2, despite reaching number 1 only once.
It was certified diamond by the RIAA, for shipping 10 million copies in the U.S. (9,597,000 copies sold according to Nielsen SoundScan).
In Canada, it debuted at number 1 with 230,212 copies sold, setting another record by Celine in her native country that still remains and after only three weeks it was certified diamond.
The album has sold 1,491,000 in Canada.
In 2003, the album received an IFPI Award to commemorate the sales of 10 million copies in Europe.
It has sold almost 2 million copies in the United Kingdom and was certified 6x platinum.
In the UK, the album spent 17 straight weeks in the Top 10, with 29 weeks in total, entering at number 1, it went back to the summat 3 times (which knocked off (the Spice Girls twice and Madonna's album "Ray of Light") once.
After selling 1.5 million copies in Germany, it was certified 3x platinum.
Other countries, where the album has sold over 1 million copies include France (diamond award) and Japan (million award).
The album reached number 1 all over the world, spending 11 weeks at the top in the Netherlands, 10 weeks at number 1 on the European Top 100 Albums chart, 9 weeks at number 1 in Switzerland and Norway, 8 weeks in New Zealand, 7 weeks in France, Italy and Belgium Wallonia, 5 weeks in the United Kingdom, Germany, Australia and Denmark, 3 weeks in Austria, 2 weeks in Canada, Ireland and Belgium Flanders, 1 week in the United States, Sweden and Finland.
The album also reached the top in Greece.
In 1997, the album sold almost 9 million copies with 1 million plus sales during 6 consecutive weeks.
In February of 1998, it sold 1 million copies worldwide thanks to the Valentine's Day's holiday shopping in the United States. At the end of the year, it sold 19.3 million copies.
Accolades
Edit
| Year | Award show | Award |
| --- | --- | --- |
| 1998 | Academy Awards | Academy Award for Best Song (to James Horner and Will Jennings) – "My Heart Will Go On" |
| 1998 | Golden Globe Awards | Golden Globe Award for Best Original Song (to James Horner and Will Jennings) – "My Heart Will Go On" |
| 1998 | World Music Awards | World's Best Selling Canadian Recording Artist of the Year |
| 1998 | American Music Awards | Favourite Pop/Rock Female Artist |
| 1998 | Billboard Music Awards | Female Album of the Year – Let's Talk About Love |
| 1998 | Billboard Music Awards | Soundtrack Single of the Year – "My Heart Will Go On" |
| 1998 | Billboard Music Awards | Album Artist of the Year |
| 1998 | Billboard Music Awards | Adult Contemporary Artist of the Year |
| 1998 | Billboard Music Awards | Album of the Year – Titanic |
| 1998 | Billboard Music Awards | Soundtrack Album of the Year – Titanic |
| 1998 | The Order of Canada | Appointed Officer of the Order of Canada for Outstanding Contribution to the World of Contemporary Music |
| 1998 | National Order of Quebec | Appointed Officer of the National Order of Quebec |
| 1998 | VH1 Viewers Vote Awards | Artist of the Year |
| 1998 | VH1 Viewers Vote Awards | Best Female Artist |
| 1998 | VH1 Viewers Vote Awards | Diva of the Year |
| 1998 | Japan Record Awards | Special Achievement, International Artist – "My Heart Will Go On" |
| 1998 | Japan Gold Disc Awards | International Pop Album of the Year – Let's Talk About Love |
| 1998 | Japan Gold Disc Awards | International Artist of the Year |
| 1998 | MuchMusic Video Awards | MuchMusic Video Award for People's Choice: Favourite Canadian Artist |
| 1998 | Performance Magazine Readers Poll Awards | Best Pop Act |
| 1998 | Pop Corn Music Awards | Best Female Singer of the Year |
| 1998 | Hungarian Record Industry Awards | International Album of the Year – Let's Talk About Love |
| 1998 | AMIGO Awards | Best International Female Artist |
| 1999 | Grammy Awards | Grammy Award for Best Female Pop Vocal Performance – "My Heart Will Go On" |
| 1999 | Grammy Awards | Grammy Award for Record of the Year – "My Heart Will Go On" |
| 1999 | Grammy Awards | Grammy Award for Song of the Year (to James Horner and Will Jennings) – "My Heart Will Go On" |
| 1999 | Grammy Awards | Grammy Award for Best Song Written for a Motion Picture, Television or Other Visual Media (to James Horner and Will Jennings) – "My Heart Will Go On" |
| 1999 | World Music Awards | World's Best Selling Female Pop Artist |
| 1999 | American Music Awards | Favourite Female Pop/Rock Artist |
| 1999 | American Music Awards | Favourite Adult Contemporary Artist |
| 1999 | American Music Awards | Favorite Soundtrack – Titanic |
| 1999 | Juno Awards | Female Vocalist of the Year |
| 1999 | Juno Awards | Best Album – Let's Talk About Love |
| 1999 | Juno Awards | Best Selling Album (Foreign or Domestic) – Let's Talk About Love |
| 1999 | Juno Awards | International Achievement Award |
| 1999 | Félix Awards | Most Successful Québécois Artist in a Language Other Than French |
| 1999 | Canada's Walk of Fame | Inducted into Canada's Walk of Fame |
| 1999 | Canadian Broadcast Hall of Fame | Inducted into the Canadian Broadcast Hall of Fame |
| 1999 | People's Choice Awards | Favourite Female Music Performer |
| 1999 | South African Music Awards | Best Selling International Album – Let's Talk About Love |
| 1999 | Blockbuster Entertainment Awards | Favourite Song from a Movie – "My Heart Will Go On" |
| 1999 | ECHO Awards | Most Successful International Female Artist |
| 1999 | Japan Gold Disc Awards | International Song of the Year – "My Heart Will Go On" |
| 1999 | Japan Gold Disc Awards | International Artist of the Year |
| 2002 | Billboard Latin Music Awards | Special Award for "My Heart Will Go On" as the First English-language Song to Top Billboard's Hot Latin Tracks |
| 2003 | IFPI Awards | To Commemorate the Sale 10 Millions Copies of Let's Talk About Love in Europe |